★ Media and exhibitions of Kylie InGold! ★
Kylie InGold
A continuing Journey into the Imagination and Life of a Fantasy Artist
September, 2008
My home was featured in the Amazing Homes Magazine in the Gold Coast Bulletin.
The log cabin isn't my house, that's my studio. It has a fire place but uses too
much timber. So in winter I cover the posh couch in the lounge room with a
sheet and paint there in front of the pot belly.
The house is an old Queenslander built around 1904. I am the fourth owner.
You can read the story below in full Acrobat PDF File Click to view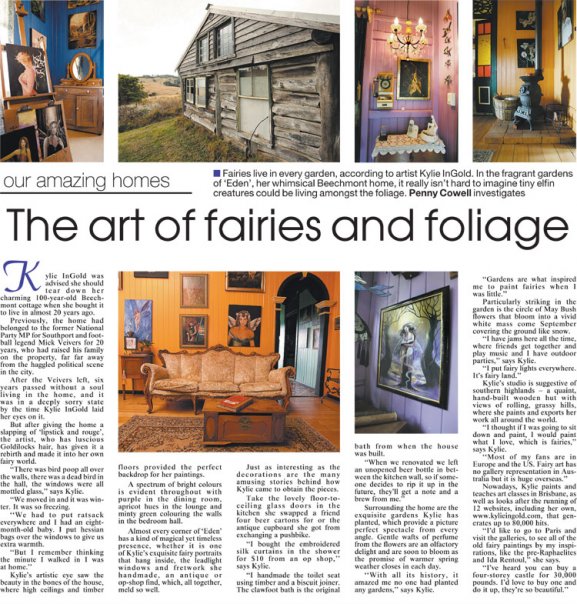 SAMILDANACH WORK SHOP Grand Opening April 5, 2008
Mythological, Sci-Fi, fantasy art, jewellery, spiritual art and gifts,
plus Heavy Metal Wing apparel available.
Currently Running Starts April 5, 2008
Kylie is one of the featured Artists and will be at the opening.
Some of her original paintings will be exhibited as well as,
her greetings cards, prints and other collectibles.
Fae Nation Artist of the Month June 2007
Artist of the Month at www.faenation.com
Viscopy Member 2007
Yurranga Art Society Member 2006
Cover Art Fantasy Painting June 2006
"The Dancing Fairy" Bweusst Sein, Germany
Plus a full page article on Kylie and her art
Bweusst Sein Article on Kylie June 2006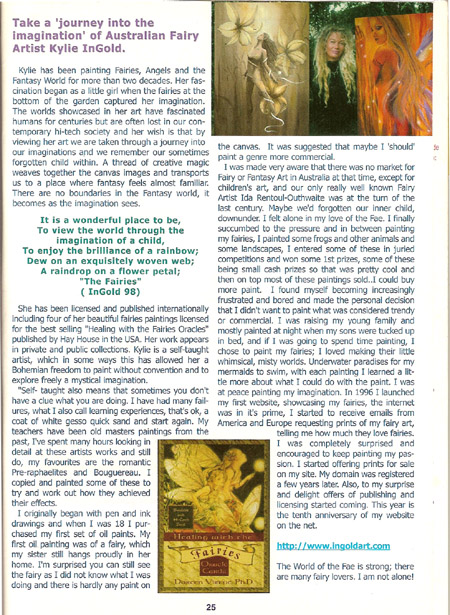 Gold Coast Bulletin February 2003
Solo Exhibition Gold Coast Arts Centre Cafe 2003
Fairy and Fantasy Solo Exhibition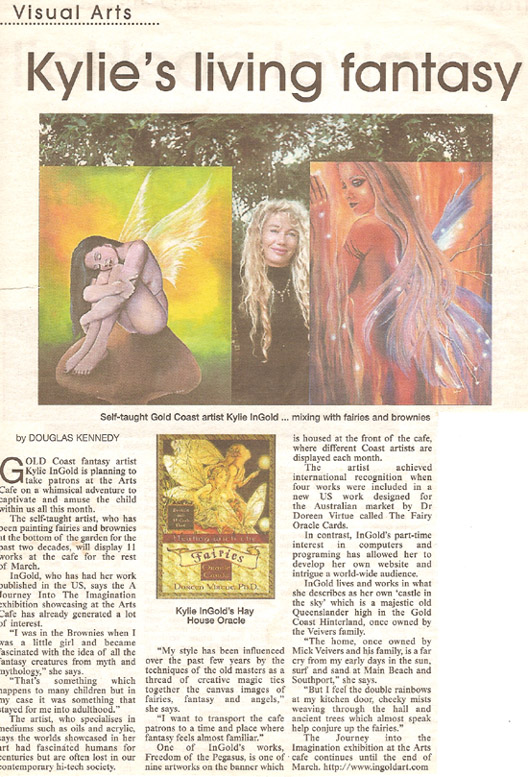 Hay House Inc. 1999
Released 2000 and 2001 in Australia
4 pieces of my Art Work have been included
in this beautiful fairy healing card set by
Dr. Doreen Virtue and Published by Hay House in the USA.
9 Artists in Total have contributed to this project.
Fairy Cards
News & Views 2001
Media for Gold Coast Arts Centre Permanent Banner.
This banner is displayed at the Entrance to the Gold Coast City Art Gallery above the Arts Cafe.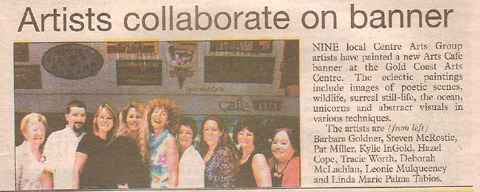 Kylie painting on cover of the
Gold Coast 2000 White Pages Telephone Book..
White pages phone book
From Left
Louise Waddell, Kylie InGold, Deborah McLachlan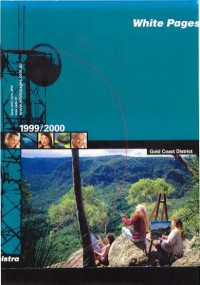 Gold Coast Bulletin June 7, 1998
St John Vianni Art Exhibition 2007
Beechmont Celebration Art Competition & Exhibition 2002
Open Commended (Fantasy montage of Beechmont)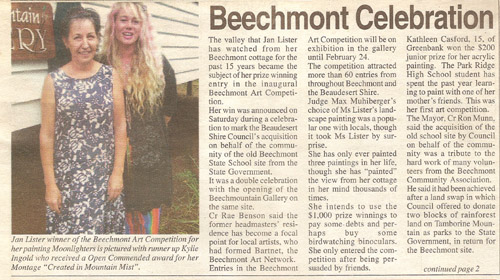 Press, Media, Awards & Exhibitions.
Solo Exhibiton Fairies and Fantasy Gold Coast City Art Gallery 2003
Border Art Prize Gold Coast City Art Gallery 2003
Border Art Prize Gold Coast City Art Gallery2001
Gold Coast Arts Center 2001
Permanent Art Commission
Trinity Luthern Art Exibition 2001
Hay House Inc. 2000
Release of the Healing with the Fairies Oracle Cards
Artstralia Award 2001
Canungra Horticultural and Industrial Society Art Show 1999
1st Prize: Portrait of a Figure (Portrait of the Fairy Shari)
1st Prize: Animals & Birds (Red Eyed Frog Frog painting)
Trinity Luthern Art Exibition 2000
Guardian Angels Art Exhibition 1999
Trinity Luthern Art Exibition 1999
Signatory:I'm Sorry Campaign for the Stolen Generation 1999
http://apology.west.net.au/index9.html Sign it yourself!
Binna Burra Art Exhibition 1998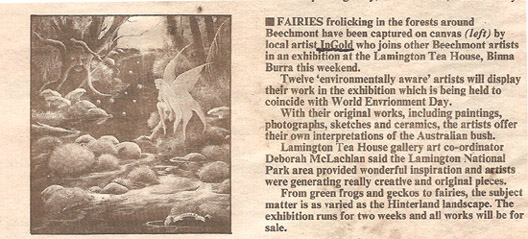 Guardian Angels Art Exhibition 1998
Canungra Horticultural and Industrial Society Art Show 1998
3rd Prize: Landscape (Fairy painting sepia wonderland)
3rd Prize: Animals & Birds (Parrot Painting)
Gold Coast Show Society Highly Commended 1997
(Pegasus painting "Deep in the Australian Bush Magic Happens)